Testimonials
... because what people say about you and your work matters
Patient feedback
Feedback and patient testimonials are often the best places to start when deciding whether to go ahead with surgery or choose an eye surgeon. Mr Dimitri Kazakos has over a hundred patient reviews at the well-known independent website: www.lasik-eyes.co.uk. (click on Review a Surgeon). We have also collated some below for your reference.
You can also like his Facebook page and enter a review by clicking here: DimitriEye Surgery
Why not join him on LinkedIn and recommend his services here: Dimitri Kazakos
If you are tech-savvy you can create your own video diary in your YouTube account and let us know the link. Then we can share it with our community in the video section
Thank you Vic for your kind words. Prospective patients should appreciate that they may be cancelled or their wishes may not be fulfilled if I feel is not safe or appropriate. It is a discussion and a choice between only you (the patient) and me (the surgeon). Nobody else. I only have your best interest at heart and aim to make you happy with your result.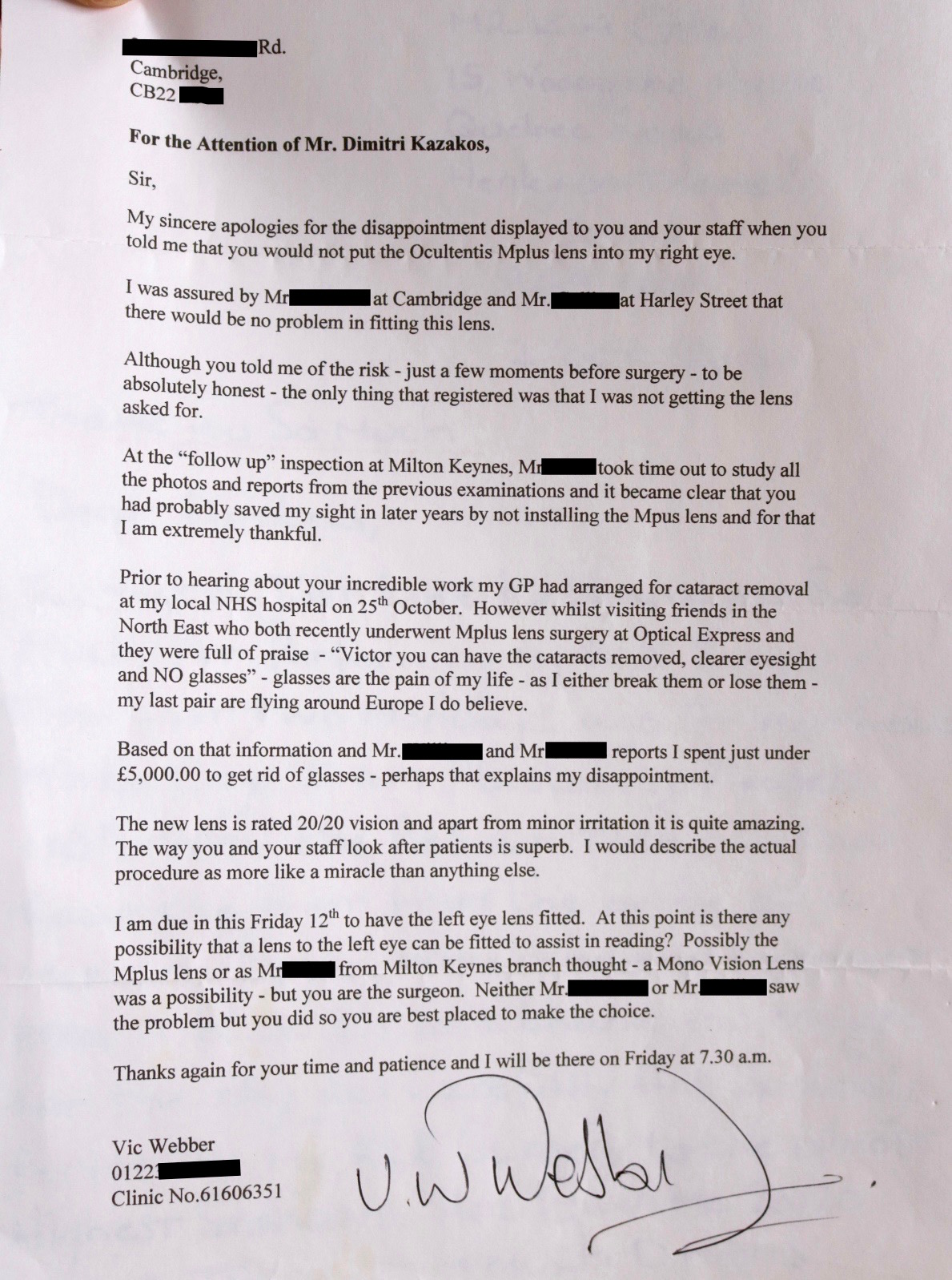 I had laser surgery with Optical Express in Birmingham with Dimitri Kazakos. I admit that I am a vain person, but the main reasons were the ultimate amounts of extra gear I have to take away with me every time I go away anywhere in the form of contact lens solutions, glasses, and cases, as well as the fact that I couldn't completely get on with contacts. They were always aggravating my eyes and making them dry and uncomfortable.
I had the procedure on 3rd July (almost three months ago).
The procedure I had was intralase wavefront LASIK.
My prescription was L -2.5 mild astigmatism, R -3.25 moderate astigmatism. It cost me £2,300, which I decided to pay off in monthly instalments since they were offering interest free credit at the time.
My mind was doing all kinds of things to me before the procedure. I thought that the laser would hurt, I thought that the suction would feel like my eyeballs were being ripped out, I thought that the laser man would mong the burning. Everything, from start to finish, was literally an absolute breeze.
They called me into the procedure room directly from the lounge I was waiting in. I sat back and they put the anaesthetic drops in my eyes. They told me to keep still and watch the red light. The first laser created the flap, then I saw the surgeon lift the flap for the second laser. The suction force was 10x less than I thought it would be i.e. negligible. There was some sparking-type noise and some blue lights flashing along with a slight burning smell, then he moved the flap back over my cornea.
The only (vaguely) unpleasant parts were – the creation of the flap using the intralase laser, in that it stung slightly, and the first 30 minutes between the anaesthetic wearing off and me going to sleep. Bare in mind that I've had headaches more painful that anything I experienced during the whole event.
There was a slight complication when the surgeon looked at my eyes post-procedure. There was a small piece of fluff under my right 'flap'. The surgeon re-lifted the flap, cleaned it out, and it was all sorted (quick and again painless).
Walking towards the train station with my wife afterwards (you need someone else with you), I could already tell that things were sharper. My eyes were streaming, a lot. I got home and went to bed. 8 hours later, I woke up at 5am and went to the toilet, without needing any vision correction. 2 weeks later, my eyes were slightly better than 20 / 20. One month on, my eyes were already excellent, being one line better than 20/20. Now, my eyes are two lines better than 20/20 and feel much healthier and fresher. I feel more confident looking people in the eye without squinting or through glasses.
The only negative thing I have to say about Optical Express is the robot-like team they had in the pre-procedure process. They clearly didn't give a poo, but this may not be the same for other branches and certainly wasn't the case for the procedural / post-care team. The real deal re-check your measurements in any case.
To conclude, I was dead impressed with Optical Express, and am more delighted than I can describe with the end result. I would have had it done years ago if I'd had the cash.
*****
"Lens surgery with Dimitri has been a blast. He was very informative made me understand my choices and together we chose the right lens combinations for my lifestyle. His no-nonsense style was refreshing. All my worries were put at ease. Now a month after surgery I am delighted with the result. I recommend anyone to go ahead with lens eye surgery with Dimitri – it has been life changing!"
*****
"Laser eye surgery with Mr Kazakos has been a fantastic experience from start to finish. I was nervous but the consultation meant that all my worries were put at ease. The day after surgery I really could not believe how crystal clear my vision was. I recommend anyone to go ahead with laser eye surgery if they are suitable – it has been life changing!"
*****
"Lens surgery with Mr Kazakos has been a sight changing experience!. Dimitri, was very reassuring at every step, putting me at ease at both consultation and the surgery. The day after surgery I really could not believe how crystal clear my vision was. I recommend anyone to go ahead with phakic lens surgery – I can now see without glasses for first time in my life!"